In Stenik we believe that the lessons learned should be shared. We often participate as lecturers in presentations, conferences, seminars, workshops and trainings.
We will be glad to be contact us, if you want to invite us for lecturers at your event. 
Upcoming events
Expect Stenik to participate in various online marketing and internet marketing events and in 2019
We wish you a merry welcome in 2019!
---
Past events
2018
Online Advertising conference 2018
On October 19, Online Advertising 2018 was held. Stenik took part in the 3rd Ecommerce panel with lecturer Dimitar Dietrov. The topic he presented was "Successful Migration to a New eCommerce Platform". More about the event.
---
What we learned in Stenik from our London visit at the eCommerce Expo 2018 event
This year, on October 26 and 27, the UK hosted the eCommerce Expo 2018 again. Stenik's CEO Stefan Korbanov spent two inspiring days meeting a number of English, American and European companies, developers and top online store managers. More about the event.
---
Dimitar Dimitrov advises within the framework of the E-commerce 4.0 forum
The E-commerce 4.0 Forum was held on September 27 in Interpred, Sofia Hall. The event was useful in terms of trends and innovations in online commerce. Read more on the blog.
---
Stenik participated in a series of six free training events in the country
Stenik united knowledge and experience with the Bulgarian E-Commerce Association. The six days of the events passed into well-dressed presentations accompanied by networking. Read more on the blog.
---
Presentation Dimitar Dimitrov presented at eCommCongress 2018
On May 11, 2018, the 4th Annual Commerce Congress CommCongress 2018 was held at the Sofia Event Center. Dimitar Dimitrov presented the topic "Successful Steps in Migrating an Online Store Platform". More about the event.
---
Stefan part of the jury of the contest "Site of the Year" for web solutions in BG
As a managing web agency with 15 years experience and eCommerce focus, Stefan Chorbanov was invited by the organizers to be the jury in the competition. More about the event.
---
Stefan Chorbanov with a Masters degree for Ecommerce Conversion of Top Marketing Expert Tim Ash
During the second day of Bucharest's 11th eCommerce TeCOMM, Stefan Chorbanov took part in the Ecommerce Conversion Masterclass Workshop on UX & Convertion Rate Optimization. More about the event.
---
Stenik with valuable know-how from international eCommerce experts from TeCOMM 2018
On March 7 and 8, Stenik visited the 11th edition of TeCOMM 2018 in Bucharest. Read more on the blog.
---
Stenik with stand of ecommcongress 2018
11.05.2018 Welcome to the Stenik company stand at ecommcongress on May 11 at the Sofia Event Center. The team of eCommerce consultants will be waiting for you! More about the event
---
2017
"Sell ​​successfully in Romania" 
How to prepare your e-shop for sales in Romania? - presentation of Dimitar Dimitrov and Stefan Chorbanov in the framework of the second edition "Sell Successfully in Romania".
---
Complete solutions for electronic stores with CIBank, 2017
On March 14, 2017 at the Software University, a seminar "Complete Solutions for Electronic Shops", organized under the eBusiness Solutions program of CIBANK in partnership with STENIK, took place. A guest lecturer was Stefan Chorbanov, who gladly gave his contribution and presented the topic: "The Life of a Successful Online Shop. How to grow smart in a technical way?".
---
Developer training course for e-commerce platform Magento 2017 Software
STENIK organizes a free "Magento Fundamentals" course, launched on May 15, 2017 at the University of Software. Officially certified Magento programmers and developers of online stores - Nikolay Dimitrov, co-founder and partner in STENIK and Martin Grozdanov, developer of custom modules, were lecturers of the training.
---
Online Advertising 2017
The Online Advertising Conference was held on March 31 in Sofia, at Inter Expo Center. Stenik, in the face of Stefan Chorbanov, Dimitar Dimitrov and Todor Minev, took part as guests in the seminar part of the conference.
---
2016
Magento Developers Paradise 2016
Developers Paradise 2016 was held in Opatija, Croatia from 25th to 28th April. The three Stenik-certified Magento programmers Nikolay, Veselin and Martin visited the event and introduced new e-Commerce solutions and practices that will work for our clients.
---
2015
How does success in online marketing depend ?, 2015 Interpred
On May 29th in Interpred Sofia took place the twelfth seminar - SocialMe Workshop. Stefan Chorbanov and Dimitar Dimitrov from Stenik gave their valuable advice and recommendations in their presentation "On what depends success in online marketing?", In which they focused on working with e-commerce, which is an important part of every emerging online business.
---
2014
WEBIT CEE, 2014 Sofia
On April 9, 2014, the long-awaited Webit CEE Digital Summit 2014 took place in Sofia. The event was extremely useful and the lecturers gave everyone the opportunity to set up their clock for the trends in the industry.
---
"Optimization of Electronic Stores", SEO Conference 2014, Sofia
On April 4 in Sofia, in the building of Inter Expo Center was held an SEO conference with the participation of Bulgarian SEO and marketing specialists and people from Google. Stenik visited the event during which he enjoyed pleasant meetings with clients, optimizers and search engine representatives.
---
Here's the presentation: https://plus.google.com/+StefanChorbanov/posts/e5s1JyzC9a8
2013
eCommerce Expo 2013, London
Stenik visited the largest eCommerce event in Europe - eCommerce Expo 2013, which took place in London. Our team has met with many of our partner companies such as Magento, DotMailer, Peer 1, PayPal and others. and we have created many new friendships and business contacts.
---
Social Me Workshop 2013, Interpred
Stefan Chorbanov and Dimitar Dimitrov presented the topic "What does success in online marketing mean?" Within the Social Me Workshop 2013
---
Marketing and more sales for e-merchants, 2013 Sofia
Stenik again helped online merchants within the National e-Commerce Conference with his presentation on "Marketing and More Sales to E-Merchants", which he presented on September 28, 2013 at Business Hotel Anel.
---
"Sell ​​More Online" 2013, Interpred
Stefan Chorbanov and Dimitar Dimitrov delivered 2 lectures on topics: "The Little Things That Make A Great Merchant Online!" and "E-mail Marketing in Online Commerce". The seminar was rated as the best eCommerce event in Bulgaria so far.
---
2012
Internet World 2012, Munich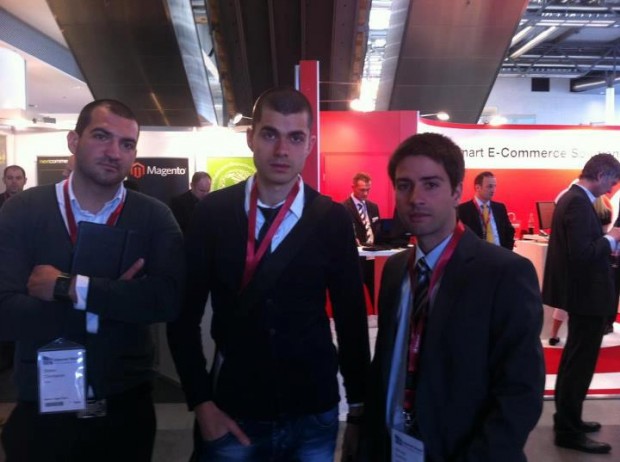 Managers at Stenik, Dimitar Dimitrov, Nikolay Dimitrov and Stefan Chorbanov visited the Internet's largest online trade fair in Internet World 2012 in Munich on March 27 and 28.
---
Social Me Workshop 2012, Interpred
On October 27 took place the ninth consecutive Social Me Workshop, where Dimitar Dimitrov and Stefan Chorbanov presented a presentation "How to create and manage a successful online store?". 
---
2011
Digitex 2011, Inter Expo Center
"Do you start an online store? And do you know what's expected next?" - an impressive presentation by Stefan Chorbanov within the exhibition.
---
DesignDay'11, Sofia
Stenik received the first prize for the best mobile site mock up at DesignDay'11, which took place on September 28, 2011. Among the lecturers of the event were world-renowned experts in designing and developing mobile web solutions - such as Giles Colburn, Anthony Ribbo and Jason Kale.
---
OnlineBiz 2011, hotel
Stefan Chorbanov was lecturer at eCommrece OnlineBiz 2011, organized by NET magazine. The founder of Stenik presented the current and important topic of whether the merchants would choose a ready-made software solution for their e-shop or look for the creation of an individual and unique internet shop.
---
Open doors 2011
Open Doors Day 2011 was held on May 14 and 15 at the Silver House Hotel in Sofia. Within 2 days, we gathered 100 web trainees who were interested in getting in touch with us personally and finding out more about our internship this year.
---
Webmonday in Munich, 2011
The Webmonday Web Meeting in Munich (February 7, 2011) was part of the Global Ignite Week and all presentations had to follow the Ignite format: a 5 minute presentation, 20 slides that changed automatically to 15 seconds - you have no right to mistake, and your thought must flow smoothly and logically.
---
2010
SEO Conference 2010
Within the framework of the SEO Conference Stefan Chorbanov from Stenik gave a video interview to Vasil Toshkov in which he shared useful tips for making an online store and trends in eCommerce for 2014
---
DESIGNDAY'10, Sofia
Stenik's team visited the annual event, organized by .NET - DESIGNDAY'10 magazine. During the event, the three key aspects of web design were developed: vision, consumer experience and technology platforms.
---
2010
WebXpo 2010
Stenik was an official design partner and a participant in the WebXpo 2010 exhibition, which took place in three different cities - Sofia (May 31), Plovdiv (2 June) and Varna (June 4th).
---
For 12 months of the third deaf in the mouths of the people, 2010
Within WebXpo
---
UX seminar, 2010
Stefan Chorbanov from Stenik participated in Lukrat Training "Live Web Content" on 22.04.2010 at Radiosson SAS Hotel, Sofia
---
Useful Websites, 2010 Sofia
Stefan Chorbanov from Stenik visited a two-day training session on "Useful Websites" - 27-28.04.2010
---
2009
WebXpo 2009
The first web show in Bulgaria, "WebXpo", will be held on June 5 and 06, 2009 at the International Fair in Plovdiv. The event gave exhibitors and visitors the opportunity to see the trends and future of the web space in Bulgaria.
---
M3 College, 2009
On September 24, 2009 a seminar was held at M3 Communications College, where Stenik took part in Dimitar Dimitrov and Stefan Chorbanov, who presented one of the most successful business projects in the field of communications, part of Stenik's portfolio.
---
2007
Exhibition 2007
Stenik as the official partner of Shot Arte took part in the exhibition "ReGenesis", which took place on 17 November 2007 in Serdika Metro Station. A number of Sofia citizens had the opportunity to see the mixing of time spaces on the way to their home or work.